Crypto Marketers Could Face 2 Years in Jail Under UK Regulation
The United Kingdom has eased the path for crypto marketing assets with its new regulatory framework in a significant shift. It offers clarity for fintech enterprises navigating the blockchain industry.
The new wave of regulation aims to protect consumers while promoting responsible growth within the crypto industry.
UK Releases Crypto Marketing Rules
The Financial Conduct Authority (FCA), the UK's financial watchdog, has introduced a series of rules ensuring transparency and risk awareness for investors in the crypto market. As of October 8, firms must enforce a cooling-off period for first-time investors.
The goal is to shield the so-called "newbies" from impulsive decisions that may result in significant financial losses.
Additionally, popular "refer a friend" bonuses that were largely considered deceptive have been removed from the marketing arsenal of crypto firms. The focus has shifted towards ensuring prospective investors possess the necessary knowledge and experience before venturing into the crypto market.
The FCA's Executive Director of Consumers and Competition, Sheldon Mills, emphasized the importance of investors' autonomy in making financial decisions but warned about potential losses. He added that the new rules aim to give people adequate time and risk warnings to make informed decisions.
"It is up to people to decide whether they buy crypto. But research shows many regret making a hasty decision. Our rules give people the time and the right risk warnings to make an informed choice," said Mills.
A Clear Regulatory Framework
The new regulations are not restricted to crypto firms based in the UK. Overseas firms targeting UK consumers must also align their promotional strategies with these regulations.
Such widespread application ensures that the rules are fair and evenly applied to all market participants. Here is a summary of the new crypto marketing rules in the UK:
A mandatory cooling-off period for first-time investors.
Banning of "refer a friend" bonuses.
Ensuring that prospective investors have the appropriate knowledge and experience.
Implementation of clear risk warnings in crypto promotions.
Ensuring adverts are clear, fair, and not misleading.
Compliance with the new rules by all crypto firms targeting UK consumers, including overseas firms.
Failure to comply with these rules can result in stringent penalties, including up to 2 years of imprisonment, an unlimited fine, or both.
Additionally, the FCA maintains the right to take robust action against non-compliant firms. This includes listing them on a warning list, requesting the takedown of websites, and enforcement action.
Crypto Popularity on the Rise in the UK
The new framework comes against a backdrop of surging interest in cryptocurrencies within the UK. The FCA conducted a survey in early 2023, showing a substantial increase in the popularity of cryptos. The study sampled 2,000 respondents, representing a cross-section of the UK's population.
One of the most striking findings is that an estimated 10% of respondents reported owning cryptos. This signifies a marked increase in crypto ownership, up from 3% in the previous year's survey.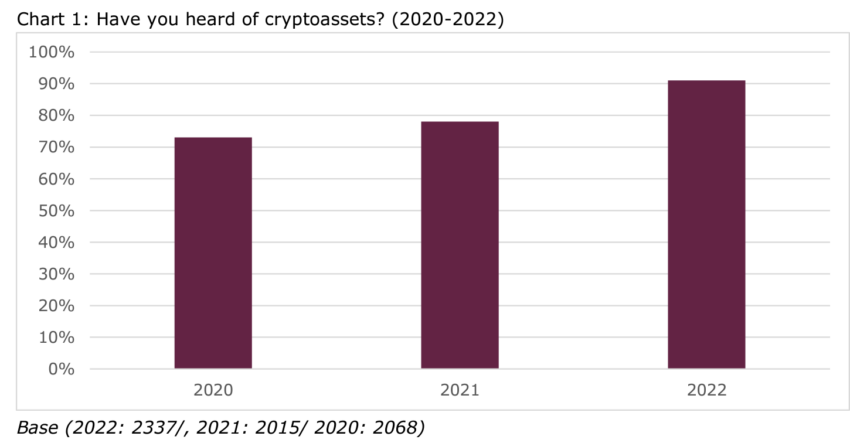 Interestingly, the study found that the average age of a crypto investor in the UK was 37. It suggests that younger generations are more likely to venture into this new asset class, with a notable proportion of older respondents also showing an interest.
Bitcoin remained the most popular crypto, owned by around 70% of the respondents. In second place was Ethereum, owned by 35% of the respondents who held crypto. Moreover, the survey indicated that 15% of crypto investors viewed their holdings as a safeguard against inflation.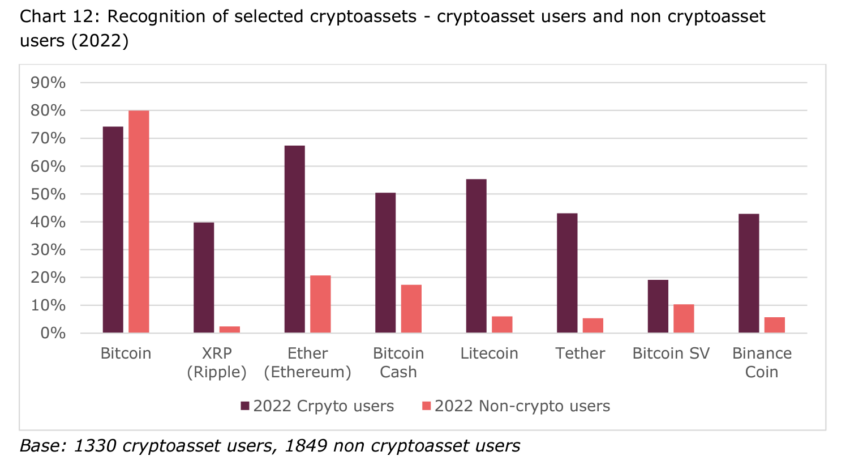 Despite the increasing popularity of crypto, the survey findings revealed a concerning lack of understanding. A significant 40% of respondents could not correctly explain the function of cryptos, highlighting an urgent need for investor education in this complex domain. Furthermore, many respondents were unaware of the regulatory protections or lack thereof.
More Work Needs to Be Done
The FCA has acknowledged that there's room for further clarification of the rules. It aims to distill the 91-page policy document detailing these regulations into a shorter, easy-to-follow guide to encourage compliance.
Such a guide would be a welcome tool for firms and investors in an industry characterized by rapid evolution and complex jargon.
Despite these new regulations, crypto assets remain high-risk investments. The FCA has consistently warned that consumers should be prepared to lose all their invested money due to the largely unregulated market.
This regulatory shake-up reflects the UK's efforts to balance the twin objectives of fostering innovation in fintech while safeguarding investor interests. It is a cautious but determined step towards integrating the crypto economy within the mainstream financial system, an evolution that holds implications for the future of global finance.
Disclaimer
In adherence to the Trust Project guidelines, BeInCrypto is committed to unbiased, transparent reporting. This news article aims to provide accurate, timely information. However, readers are advised to verify facts independently and consult with a professional before making any decisions based on this content.