Crypto volumes continue lag, Bitcoin & Ether fees down for fourth consecutive week
Key Takeaways
On-chain activity for Bitcoin and Ethereum has fallen for the fourth consecutive week
DEX share of trading volume had jumped up from 14% to 22% last month amid regulatory crackdown on centralised exchanges
DEX volume has fallen back again since, however, and entire crypto space is seeing thin liquidity
Many speculate the regulatory crackdown in the US will push crypto two ways: offshore and/or into the decentralised realm. For the former, that doesn't need much explanation. Tightening the noose on crypto companies in the US will force those same companies to move abroad if they want to continue their operations at the same capacity (or at all).
But whether this will push activity on-chain presents as a more interesting debate. Decentralised exchanges took off during the pandemic hysteria, however their volumes fell drastically throughout 2022. While volume also fell for centralised exchanges (CEXs), the ratio of the volume of DEX trading to CEX volume fell from 16.9% at the start of 2022 to 9.6% twelve months later, showing DEXs fell further than their more conventional counterparts.
Could the regulatory travails of Coinbase, Binance and other centralised exchanges reverse this trend? The below chart shows that there was indeed an increased portion of activity accounted for by DEXs in May, with DEX trading capturing 22.1% of volume, compared to 14.7% the prior month. However, the share has dropped back down to 15.4% through the first twelve days of June.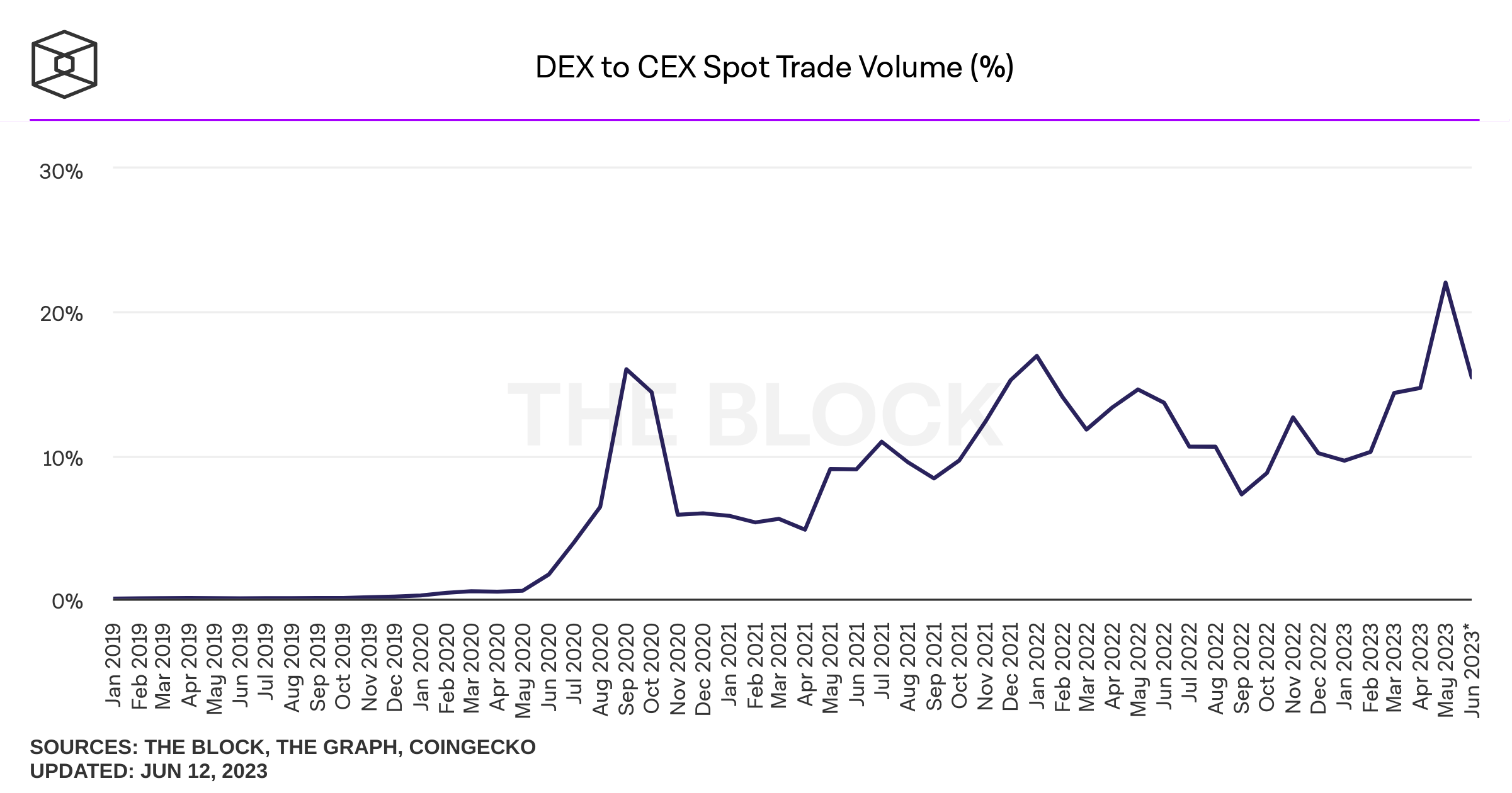 Binance was sued on June 5th and Coinbase on June 6th, which is curious when looking at the above trend as the DEX share has dropped since. Then again, these lawsuits may have been largely priced in. Coinbase was served with a Wells notice a few months ago, while Binance was (and still is) facing numerous investigations from different lawmakers. The price of Bitcoin will tell you all you need to know – it fell only 5% on news Binance had been formally sued, while the Coinbase news didn't budge it much at all.
In truth, whatever the reasons, it is hard to draw conclusions from the above data. Volume remains incredibly thin, as I have discussed in-depth previously. In fact, on-chain activity and fees have actually fallen for the fourth consecutive week for Bitcoin, the immense spike in activity caused by the Ordinals protocol and BRC-20 tokens fading into the rear window. Despite this fall, however, it should be noted that fees are still significantly higher than the start of the year.
It is not just Bitcoin. Fees and activity are dwindling across the crypto space. The below is the same chart but for Ethereum, which has also seen four straight weeks of declining fees. In contrast to Bitcoin, the activity is inching down closer to where it was in January, however.
All in all, volume in the cryptocurrency space remains incredibly thin. This is due to a variety of factors. The first is the collapse in prices. When prices fall, people invariably trade crypto less. And with Bitcoin still 60% off its peak from late 2021, the hysteria and jammed order books feel a long way off.
But regulation is also a key factor. This has suppressed enthusiasm for the space immeasurably, with particular implications for institutions. We saw a telltale sign of that over the weekend, with Crypto.com suspending its US institutional exchange. While its retail platform will remain operational, the company cited limited demand from institutions as the reason behind the decision.
A cocktail of freefalling prices and an increasingly punitive regulatory regime is the worst possible scenario for the industry, and it is not hard to see why institutions have pulled back from the space.
The jump in DEX volume portrayed by the above on-chain data may seem promising at first glance, but that trend seems to have reversed. Additionally, for institutional capital to flow significantly into the space, centralised exchanges provide a vital function. So many were optimistic of these institutions pouring in only a couple of years ago, when companies like Tesla were stashing Bitcoin on balance sheets, but that feels a long way off now.