Tokenization Can Even Stretch to Horse Syndicates, and Why Not?
Before there was blockchain, there was securitization. The financial world's best effort at turning illiquid assets into tradable securities.
But with blockchain came tokenization, a huge step forward, according to Doug Leonard, CEO of Hifi Finance, a lending protocol built on the Ethereum blockchain. Leonard sees potential for tokenization of a broader variety of assets than some have ever imagined might be candidates.
Art Is a Tokenization Favorite
With tokenization, each token acts as a "share" or "stake" in an underlying asset. On a blockchain, these asset-backed tokens can be easily traded peer-to-peer, automating much of the management using smart contracts. Investors can buy, sell, or trade fractional ownership, without the financial intermediaries of a security. 
For many, this functionality is a blessing. After all, those paying attention to the crypto industry's battles with the Securities and Exchange Commission know that the sale of securities is highly regulated. You cannot, for example, offload your security at the drop of a hat on an exchange, as you can an NFT.
The end result? A financial marketplace that is instant, high-liquidity, low-cost, peer-to-peer, and 24/7. For most in the crypto industry, all this represents progress, and part of the reason the blockchain was invented: to take finance down from its ivory tower.
Leonard is clear that there is a limit to how many real-world assets you can turn into an NFT. Going forward, NFTs will likely only represent "individually distinct assets," such as an individual property or piece of art. The key, he explained, is non-fungibility. Commodities, stocks, and even debt are not good examples of asset classes that fit the mold.
"I don't think people are going to issue individual equity certificates as NFTs," he said. "But anything fine art, houses, collectible cars – anything that would be a collectible could be an NFT."
So far, one of the most popular categories of assets for tokenization is fine art. And it's not particularly hard to understand why.
Data from Masterworks shows contemporary art as an asset class averaged 14.1% in annual returns from 1995 through 2020, outperforming the S&P 500's 9.9% total annual returns over the same period.
Fine Art Lacks the Triviality of Generative Projects
Contemporary art, Leonard argued, also lacks the triviality of generative NFT collections, whose public image is tainted by the transient nature of celebrity trends. They're also currently caught in a nasty legal case.
Yuga Labs, the creator of Bored Ape Yacht Club NFTs, faces a lawsuit alleging it artificially inflated NFT values through paid celebrity endorsements. Plaintiffs claim ensuing price drops caused investor losses, with Yuga violating securities law through false statements about growth and investor benefits.
"The NFT market is focused on fine art because fine art has better financial properties than what we see broadly in the NFT space," elaborated Leonard. "It's somewhat trivial to create a generative collection. We have lots of them, and every new collection dilutes what capital is in the pool in the short term. That is somewhat of a zero-sum game."

"Collectors want something that's going to hold or increase its value, so I think it's natural that people are going to want the assets that are going to hold their value the most as we pull back in the NFT bear market."
Public Attitudes Have Turned Against NFTs
And it's not just buyers of Bored Ape Yacht Club NFTs that have turned on the NFT market. The general public also has a mixed opinion on the technology.
In fact, a survey by Variety magazine last year found that 44% of non-owners thought they were a bad investment. Only 15% thought they were a good one. Considering NFT floor prices have crashed since July 2022, when the survey was done, it's doubtful that those numbers haven't worsened.
There are also worries about their security, too. Nine in ten respondents to a 2022 survey of NFT holders had experienced a scam. Considering that, the skepticism is no surprise. However, Leonard is keen to add a bit of nuance in the face of critics who scream "fraud!"
He noted that scams do involve serious fraud, and NFTs have seen their fair share. "But I also hear people use that term whenever they feel like they were promised something or they had their hopes that some outcome would occur, and then that didn't occur or their expectations weren't met, which is, I think, a more casual use" of the term, he said. 
"They're not actually implying that some sort of fraud has been committed, but, generally speaking, anytime people get their hopes up, there's going to be disappointment when there's failure to deliver. We've seen that recently with even large projects dropping new collections that didn't meet their audience expectations.

It's not wrong –  there are scams. I think there's also legitimate opportunities, and your ability to suss that out is really going to impact your experience in the space."
Galloping into the Future: Tokenizing a Horse Syndicate
One of the most interesting use cases for tokenization thus far is a horse racing syndicate. A project in which Doug Leonard's Hifi is involved. As Leonard explained:
"We've long heard that blockchain has this huge potential to disrupt various industries. Crown Ribbon is our formal attempt at taking on an industry and working to disrupt it from the ground up. The real way we're doing that is we have a horse syndicate with 100 horses, and then there's a legal structure. That is how the ownership is managed."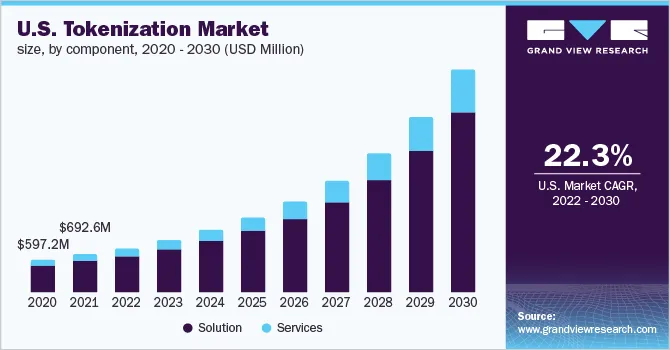 Leonard's company, Hifi, is in the process of filing for a thumbs-up from the SEC to offer tokens representing ownership shares in a horse syndicate to the general public. This would open up investment in racehorses, which has previously been limited to wealthy, accredited investors, to anyone.
Once approved, Leonard said, "you can go and see the horses race and you can see the horses. There'll be some social media component where people can actually know these horses' names and who they are."
Part of the appeal is connecting token holders to the actual horses they own in a tangible way. The horse syndicate aims to provide new financial tools to horse owners by integrating with a decentralized lending protocol. As Leonard sees it:
"I think that there's a play to be had here where we can open up additional predictability for horses or for cowboys and syndicate owners who can either leverage up on their plays or hedge out of their position through the use of our lending protocol. I think that can really bring a lot of financial maturity to the horse industry and the performance horse industry."
Hifi is keen that as many risks are mitigated as possible. The horses are insured, and cash-flowing, and they are professionally managed.
"We're going to see the tokenization of real-world assets. And what better asset to come out of the gate with than horses?" Leonard asked.
Disclaimer
Following the Trust Project guidelines, this feature article presents opinions and perspectives from industry experts or individuals. BeInCrypto is dedicated to transparent reporting, but the views expressed in this article do not necessarily reflect those of BeInCrypto or its staff. Readers should verify information independently and consult with a professional before making decisions based on this content.