Will the $1,800 Support Level Hold?
Join Our Telegram channel to stay up to date on breaking news coverage
Ethereum (ETH) price experienced a marginal decline of 0.06% over the past 24 hours, but it managed to maintain its long-standing support level of $1,800. This level has remained consistent for several months.
Currently valued at $1,843, ETH has seen a decrease of 1.93% over a week. This is largely due to legal actions taken by the United States Securities and Exchanges Commission (SEC) dampening the entire cryptocurrency market. Despite these setbacks, Ethereum has achieved an impressive 53.7% increase since the beginning of the year.
The commendable performance can be attributed to the recent introduction of staking withdrawals and ongoing development efforts. These have positioned Ethereum as one of the top-performing major cryptocurrencies.
With Ethereum successfully holding its support level, there is potential for further upward movement in the coming months.
Ethereum Price Analysis – Long-term Support is Holding ETH Prices from Falling – What's Next?
Upon analysis of Ethereum price for the daily chart, it appears that the recent volatility has set the stage for a potential resurgence. The Relative Strength Index (RSI) has returned to 50, indicating market participants' uncertainty regarding future price momentum.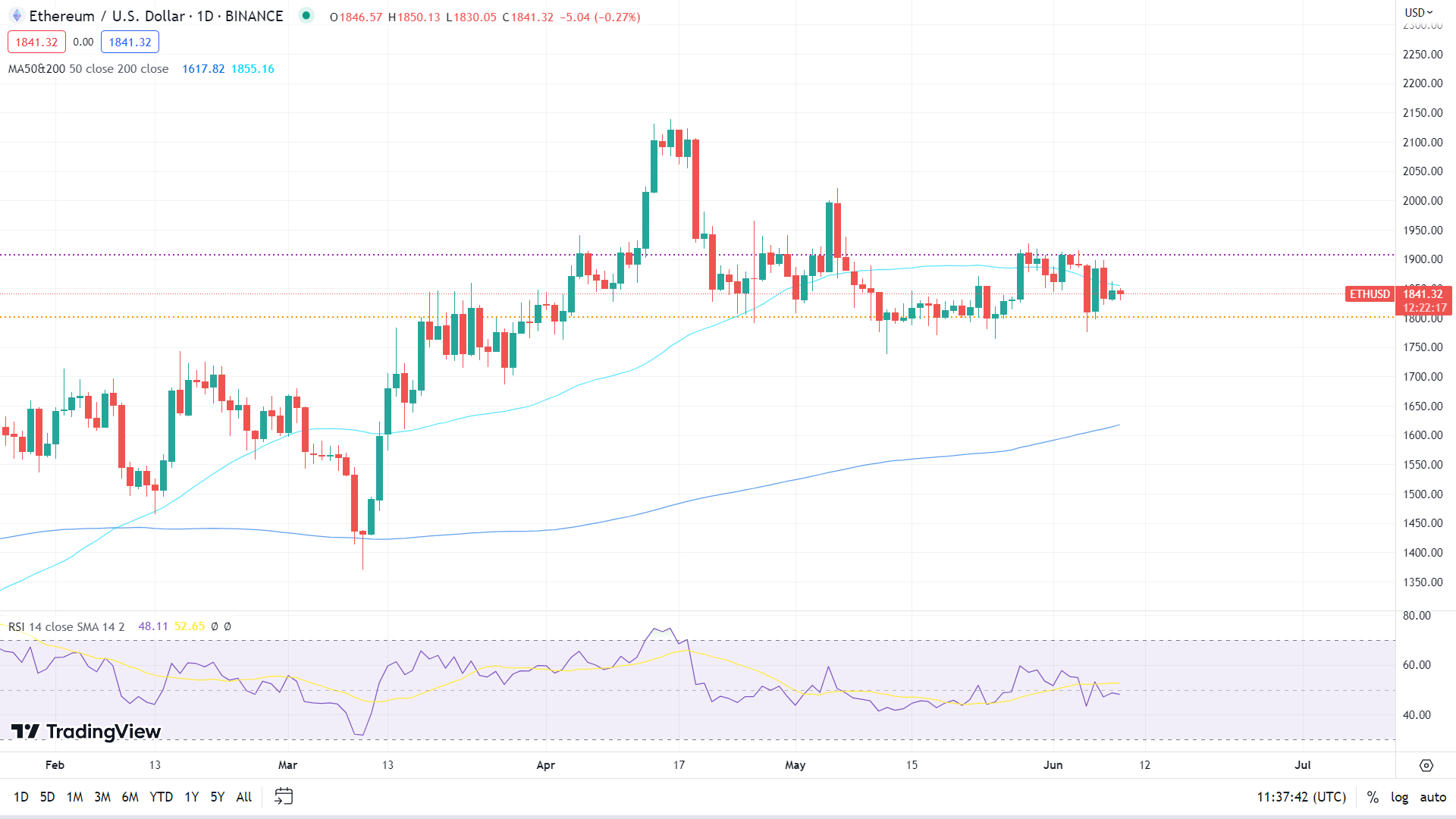 Currently, the price faces initial resistance at $1,855, which aligns with the 50-Day Moving Average (MA). If this resistance level is surpassed, it could trigger a bullish rally toward $1907.
Ethereum price's support level has remained steadfast around $1,801 and is now showing signs of a slight upward trend at $1804. With this in mind, it is unlikely that ETH will experience a significant decline beyond the recent week's drop. This is because of the current gloom in the market, with Bitcoin (BTC) price leading the stall.
Ethereum Price's Mixed Fundamentals Confuse Investors
Furthermore, Ethereum's prospects appear more favorable compared to numerous other layer-one utility tokens. This is particularly due to the recent SEC charges against Binance and Coinbase, which implicated over 10 cryptocurrencies. Among them, are Solana (SOL), Cardano (ADA), and Cosmos (ATOM), which have been deemed as securities.
The SEC just sued Binance.

In the lawsuit, SEC claimed a bunch of assets were securities ($BNB, $BUSD, $SOL, $ADA, $SAND…)

The SEC did not declare ETH as a security. BULLISH. pic.twitter.com/6X2B15KZo5

— Brazy (@BrazyBull) June 5, 2023
As a result, it is possible that coins such as ADA, SOL, and ATOM will face potential delisting from various US-facing exchanges. Notably, Robinhood has already slashed some them from its board.
🚨 Breaking 🚨

Robinhood to delist $ADA, $MATIC, and $SOL @RobinhoodApp will halt support by June 27 at 6:59pm amidst the @SECGov's recent allegations that each token is a security

Thanks, @GaryGensler! Feeling so protected with fewer choices 🙏 pic.twitter.com/Zns4NBbxp5

— Bankless (@BanklessHQ) June 9, 2023
Nevertheless, Ethereum is expected to continue trading without major interruptions for the foreseeable future. However, it should be noted that the SEC views Coinbase's ETH staking service as an unregistered security offering. This poses a potential risk to ETH holders in the future.
Nonetheless, Ethereum has enjoyed a successful few months, primarily due to the introduction of staking withdrawals in April. Contrary to some predictions of significant sell-offs, this update has resulted in increased staking activity.
If Gary Gensler is not removed from the SEC or new laws are not created…

Ethereum will be called a security

OpenSea will be sued for selling unregistered securities in the United States

they will be forced to KYC customers and register with the SEC to continue business in… pic.twitter.com/G7PkmvCup4

— Crypto Tea (@CryptoTea_) June 6, 2023
According to data from Dune Analytics, over 22 million ETH is currently locked up through staking. This is a rise up from approximately 18 million ETH when withdrawals were first enabled. The surge in staking activity indicates a strong demand for Ether and reduces its circulating supply. This exerts upward pressure on the cryptocurrency's price.
Increase in Ethereum Staking Indicates ETH is Due for a Big Rally https://t.co/jTxw2jc9CW #btc #crypto #bitcoin #cryptotwitter pic.twitter.com/nkGrs52ri6

— Elliot (🥃,🦉) (@Oxdeemeraband) June 1, 2023
Ethereum has a superior ability to attract significant adoption compared to its competitors. Because of this, it is plausible that the next few months will witness a substantial rise in ETH's price. This is based on the assumption that there will not be any regulatory challenges from the SEC or other governing bodies.
Starting from its current level of $1,800, Ethereum is likely to reach $2,000 within the next few months, potentially ending the year between $2,500 and $3,000.
Projects to Consider During Downturns
While Ethereum continues to demonstrate robust fundamentals within the cryptocurrency sector, significant price rallies may not occur until the ongoing period of regulatory scrutiny and economic uncertainty comes to a close.
Hence, traders may consider diversifying their investments into other altcoins. Specifically, several high-potential projects are in their early stages ready for purchase. One such project that is gaining massive investor's attention is AiDoge.
AiDoge: Revolutionizing Memecoin Culture with Artificial Intelligence
In the rapidly evolving world of cryptocurrencies, AiDoge has emerged as a true game-changer. Combining the power of memes with innovative utility, AiDoge is not just a token but a vibrant community of like-minded individuals. As we count down the days to the AiDoge claim and launch, excitement is building. The crypto meme revolution is about to begin.
Tick-tock, just 10 days until the #AiDoge claim and launch! ⏰

The excitement is real, are you ready for the #crypto meme revolution? 🕒🚀

Join the #AiDogeArmy as we gear up for June 19th! 💎👏👉 https://t.co/PzNuuRW5Rn#Crypto #Web3 #Presale #Blockchain pic.twitter.com/JuHei75osn

— aidogecrypto (@aidogecrypto) June 9, 2023
AiDoge: Where Memes and Utility Converge
While many meme coins focus solely on humor, AiDoge takes it a step further by integrating cutting-edge AI algorithms to generate hilarious and on-trend memes. Its AI-powered meme generator ensures a constant supply of top-quality memes that will keep you entertained and engaged. Whether you are a crypto enthusiast or simply someone who appreciates a good laugh, AiDoge's memes are guaranteed to bring a smile to your face.
No #MemeCoin does it better than #AiDoge! 🌟

Combining memes with true utility, we're more than just a token, we're a community. ❤️

Join the meme revolution today! 😎🚀

👉 https://t.co/PzNuuRW5Rn#Presale #MemeCoin #Web3 #Crypto pic.twitter.com/yZ8Zws2LVI

— aidogecrypto (@aidogecrypto) June 9, 2023
Earn Rewards with AiDoge's Staking Program
AiDoge offers more than just memes. With its staking and rewards program, you can earn credits and be rewarded with $AI tokens. It is a simple process that allows you to stake your tokens and passively earn income while contributing to the growth and stability of the AiDoge ecosystem. By participating in staking, you become an active member of its community and play a vital role in shaping the future of AiDoge.
Don't forget about #Aidoge's staking and rewards! 🌟

Stake, earn credits, and get rewarded with $AI tokens! It's that simple 😎

Secure your spot today before CLAIM & LAUNCH on June 19th! 🚀

👉 https://t.co/PzNuuRW5Rn#MemeCoin #Presale #Crypto #Web3 pic.twitter.com/H3zAtmxI23

— aidogecrypto (@aidogecrypto) June 7, 2023
Secure Your Spot Today
The time to act is now. Before the much-anticipated CLAIM & LAUNCH event on June 19, ensure you secure your spot in the AiDoge community. Do not miss this opportunity to be a part of the crypto meme revolution. Acquire $AI tokens at the final stage price of $0.0000336 and position yourself for potential growth and exciting prospects.
Secure your bag of $AI now and witness the rise of #AiDoge! 🌟💎

Hold tight – we're on the path to #MemeCoin greatness! 🚀

Hurry and secure your bag of $AI! 🔥

👉https://t.co/5j5tt4smcs #Crypto #Web3 $PEPE $FLOKI $BEN pic.twitter.com/dUHlA0w32y

— aidogecrypto (@aidogecrypto) June 4, 2023
CEX Listings and Token Launch
AiDoge's journey reaches a significant milestone with its upcoming token launch on centralized exchanges (CEXs) on June 19. This event marks the beginning of a new chapter for AiDoge, as it gains wider exposure and accessibility to a broader investor base. The integration into established exchanges is a testament to the project's potential and the confidence it has garnered within the crypto community.
A Promising Future
AiDoge's successful presale, raising an impressive $14.9 million, demonstrates the widespread interest and support for the project. The fusion of humor, artificial intelligence, and an engaged community has positioned AiDoge as a prominent player in the meme coin space. As it prepares for its token launch, AiDoge holds the potential to reshape the market and pave the way for future innovations in the realm of meme coins.
Read More
Wall Street Memes – Next Big Crypto
Early Access Presale Live Now
Established Community of Stocks & Crypto Traders
Featured on BeInCrypto, Bitcoinist, Yahoo Finance
Rated Best Crypto to Buy Now In Meme Coin Sector
Team Behind OpenSea NFT Collection – Wall St Bulls
Tweets Replied to by Elon Musk
Join Our Telegram channel to stay up to date on breaking news coverage